About John DeFrancesco
John DeFrancesco was educated as a landscape architect and horticulturist. His interest in plants and gardens is evident in many of his oil paintings.
Subtlety and softness of mood, edges and color are distinctive in his work. He paints both large canvases and small works, including miniature paintings as small as 2 by 3-inches.
His favorite subject matter includes landscapes, gardenscapes and townscapes. He also paints portraits in oil of people, pets and homes by commission.
John was born in Stamford, Connecticut. He graduated from the University of Connecticut and served as a commissioned officer in the U.S. Navy. He was a public relations consultant in Chicago, where he headed his own consulting firm.
He and his wife moved from Chicago to Monument, Colorado in 1998 and he began then to paint full time. He paints en plein air and in his home studio.
Artist Statement
I believe the ability to paint and to teach painting are God-given gifts. For those, I am thankful and I pray for guidance on how to apply those gifts to the common good. There is so very much in Creation that begs to be captured on canvas, not for the sake of illustration, but to be rendered as an expression of the artist's spirit and to evoke an emotion in the viewer. Doing so is to open a window through which many people may, in small measure, enjoy the beauty, peacefulness and contentment of God's handiwork. As a painter, I have succeeded if I have completed a work through which someone may sense the fragrances, feel the warmth of the sun, hear the sounds of the creatures or the rush of the water, and watch the colors reflecting one upon another in a dancing symphony of visual delight. That, then, is God's gift to that person.

Artfully done – PR pro with a passion for painting
The Colorado Springs Business Journal / Rosanne Gain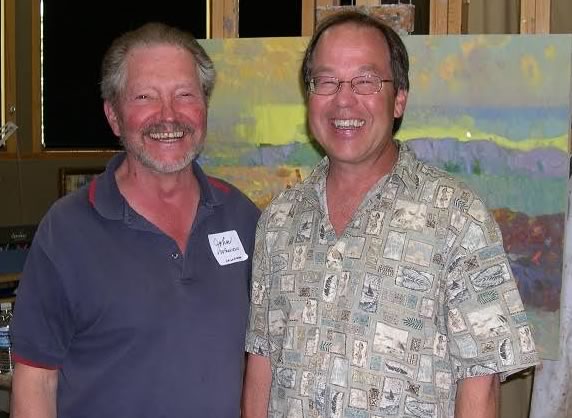 For years, PR veteran John DeFrancesco has used words to help his clients communicate their vision to the target audience. These days he uses art to continue to grow creatively in his career and life.
The Stamford, Conn., native had originally planned to go to Pratt Institute but ended up going to the University of Connecticut to study landscape design. After college, he was in the Navy for eight years as an aviation navigator. He flew anti-submarine patrols on the east coast, and then headed to California where he flew on transports hauling supplies to the Far East and Vietnam. The last two years of his military career found him in Chicago, working in public affairs for the Ninth Naval District. After leaving the Navy, he worked for several public relations firms in Chicago, and then founded his own agency in 1985.
His passion for painting began about twenty years ago. Initially self-taught, John learned the basics while watching a PBS show hosted by painter William Alexander. "I liked his philosophy of 'just slap it on and have fun,'" states DeFrancesco. "It appealed to my creative side." He taped the shows and set up an easel to follow along with the host's painting tips. "At first I basically copied what the guy did to learn painting techniques."
For many years, a hectic career and community involvement forced him to restrict his painting to weekends. About five years ago, John and his wife decided to leave the weather and congestion of the windy city. They researched several western states and Colorado Springs placed high on their list. Therefore, John moved his business base of operations to Colorado and set up a painting studio in his Monument home.
DeFrancesco and Picchietti may sound like an Italian law firm, but it is actually the marriage of two creative individuals who love to travel. John had recently returned to bachelor status 18 years ago when he met Diana Picchietti in Chicago. "I could barely boil water when I met her," states John with a wry chuckle. "Diana taught me cooking principles, and how to shop and cook creatively. Cooking has become another passion of mine."
What type of cooking does he do? "I prefer peasant food to gourmet cuisine and focus mostly on the cuisine of northern Italy – Diana is northern Italian," he states. "I love to experiment with the cream sauces of northern Italy and the red sauces of Rome." John creates his own recipes and rarely writes things down.
When it comes to his art, John employs oils to create "slice of life" portraiture. "You know, streetscapes filled with people going places and doing things. I'm intrigued with what's around the corner, where they are going."
As to the question of where his art takes him, John replies, "It's a total escape; when I am painting the day seems to slip by. I put on background music and lose myself in the piece I'm creating – my focus becomes finite, down to each and every stroke." Time spent painting is a period of total relaxation and sends him back to work re-energized. "The PR industry is very fragmented. It can pull you in a lot of different directions. Painting is a different thing altogether. It takes total concentration with no deviation, no fragmentation. I try to translate those skills to my work to stay focused on a project."
Now that John has more time to pursue his passion for painting, he takes art lessons. He has studied color composition with Given Fox in Colorado Springs and taken portraiture classes from Lorraine Fritts at the Air Force Academy. "I've met a whole new realm of people in the art world," stated John. "They're very giving and willing to share their knowledge. Besides, learning new things keeps you from getting old," he says with a smile. The lessons and extra time devoted to his art is paying off. He won third place ribbon at the Air Force Academy show for a work entitled "The Neighborhood." His wife Diana does the framing for his work.
John sold his business to L.C. Williams & Associates (LCWA) in 2001 and stayed on as the company's executive vice president. At the end of his two-year contract with LCWA he will decide whether to stay on or not. "I'm not ready to quit my day job, at least not yet," he declares while looking at his easel and perhaps into the future.
So, the man who creates streetscapes because he's intrigued with what's around the corner has discovered that it could lead to many more happy hours of creating art.